some of our recent work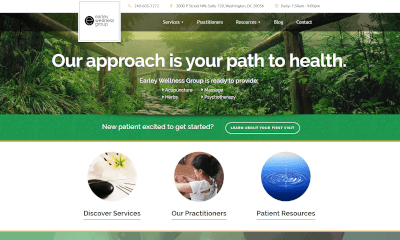 Earley Wellness Group

Earley Wellness Group
Earley Wellness Group is Washington D.C's premier destination for acupuncture and Chinese medicine. Deb Earley has over 10 years of acupuncturist experience and has assembled a team whose skills cover a wide array of specialties. These areas include cancer support, fertility support, and stress related illnesses, as well as pain relief and transformational acupuncture.
What was Earley Wellness Group looking to accomplish?
Deb came to RFX looking to completely rebrand and revamp her website. She had been so successful in the Washington, DC area that she was able to expand her practice, which naturally required expanding her online presence as well. She was interested in bringing the Earley Wellness Group into the modern era, with a website that truly draws visitors in. This includes a website that is responsive in order to work great for those on desktop devices, as well as those on the go using their mobile devices.
what was rfx's solution?
RFX was up to the task, creating a fully responsive website that caters to both current, and potential new patients alike. Through the use of bright, vivid colors and clean, readable fonts, Earley Wellness Group stands out from the competition. We provided a new blog interface, an introduction to a new video about their practice which displays using a "cinema-mode" projected onto the homepage, added a dynamic Practitioners page including bios, comprehensive Contact and Insurance Verification forms, and more. The website launched in late 2015 and the client says, "I really love the website!!!"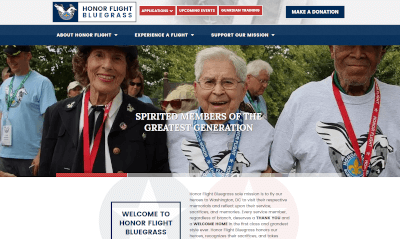 Honor Apps

Honor Flight Bluegrass
Honor Flight Bluegrass is the Kentucky hub for the Honor Flight Network. Honor Flight is a non-profit organization created solely to honor America's veterans for all their sacrifices. They transport our heroes to Washington, D.C. to visit and reflect at their memorials. Top priority is given to the senior veterans – World War II survivors, along with those other veterans who may be terminally ill.
What was Honor Flight Bluegrass looking to accomplish?
Honor Flight Bluegrass wanted a modern and sleek website to not only show off what they did for veterans in Kentucky, but to also provide an easy way for veterans and volunteers to sign up for the program.
what was rfx's solution?
RFX was able to design and build this solution for them. Not only is the website simple and to the point, it works on any device—mobile through desktop. We built out online application forms for veterans and guardians alike so that people could participate in the program as easily as possible. This solution helps them fly more of our heroes out to Washington, D.C.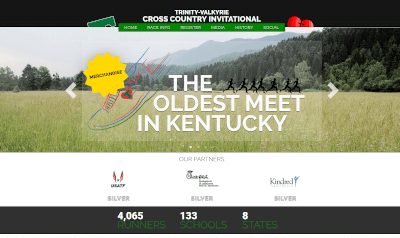 The CC Invite

The CC Invite
The CC Invite, hosted by Louisville's Trinity High School, and Sacred Heart Academy, is home to one of the oldest and largest cross country meets in the state of Kentucky and is quickly gaining national recognition. In the past, this event has drawn over 4,500 runners from six different states, and comprised more than 120 teams. The meet is held at the former 2012 NCAA Cross Country Championship site, E.P. "Tom" Sawyer State Park. In addition to completing the website, RFX is one of the main sponsors for the event and assists with planning things like vendors, staging and general logistics.
What was The CC Invite looking to accomplish?
These two schools are on the cutting edge of education, so it came as no surprise that they need a good looking and functional site that could quickly serve those looking for schedules, race information, registration for runners and teams, driving directions, and historical race data. In addition to quick access to all pertinent information, the organizers of The CC Invite wanted to have videos, news, and media from past events accessible on the website. RFX, as a main sponsor, was happy to rise up to these challenges.
what was rfx's solution?
RFX created a bright, responsive (mobile) design that draws attention to the most pertinent information. In addition to having all the basic race info available at a glance, we added a live countdown to the next race, interactive course maps, and media pages with results! Every year The CC Invite event gets better, and bigger, therefore their website must be able to accommodate these needs. RFX continues to deliver updates to the site with better social media integration and a refined user experience to match modern trends.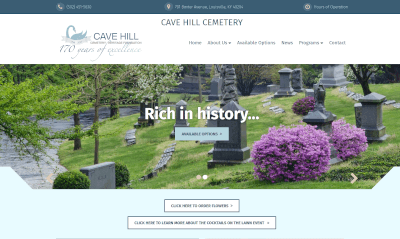 Cave Hill Cemetery

Cave Hill Cemetery
Cave Hill Cemetery was chartered by the General Assembly of Kentucky in February of 1848. Cave Hill is located on a beautiful plot in Louisville and is a Level II accredited arboretum. They offer traditional burial lots, mausoleums and more. In addition to the cemetery, they also operate the Cave Hill Heritage Foundation (website also done by RFX) which is dedicated to the long term preservation of this sacred resting place.
What was Cave Hill Cemetery looking to accomplish?
Cave Hill needed an elegant website that not only discussed the various services they provide and general info, but one that showed the beautiful, well-kept plots that help make it a local treasure. In addition, they needed to give visitors the ability to book tours online, as well make donations to the Foundation and purchase their new book.
what was rfx's solution?
RFX stepped up to the plate to provide a well thought out web experience that not only looks great, but is intuitive to use and navigate. On the front page, there is quick access to the various products and services and general news, as well as a quick cemetery database search available. Digging deeper into the site, you'll find image galleries perfect for showing just how beautiful the location is, as well as a restoration gallery showing the painstaking detail put into the preservation.
Providing easy access to the cemetery map, as well as individual section maps, was a big improvement in this project. We also built a registration area to help manage their tours, special events, and book sales.
The site was received well and we're happy to support such a great local treasure!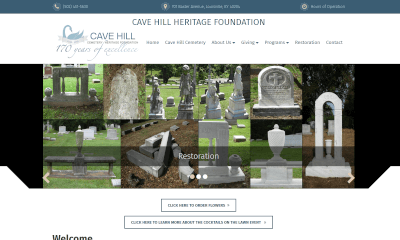 Cave Hill Heritage Foundation

Cave Hill Heritage Foundation
The Cave Hill Heritage Foundation is a nonprofit organization dedicated to providing long term preservation for the beautiful Louisville treasure, the Cave Hill Cemetery. In addition to preservation of the cemetery itself, they're dedicated to preserving the arboretum setting, restoring the historical monuments and buildings that the cemetery is known for, as well as providing education and awareness to the local community.
What was Cave Hill Heritage Foundation looking to accomplish?
The Cave Hill Heritage Foundation needed a website to provide information about the organization, as well as document the efforts they are making to preserve the natural beauty for the future. It was important for them to not only showcase their completed work, but to get the community involved through guided tours and special events. Cave Hill was also interested in an online donation platform for those who would like to make a donation to further their mission.
what was rfx's solution?
Cave Hill had previously worked with RFX Technologies during the creation of the website for the Cave Hill Cemetery. They were extremely pleased with those results, so they knew right away that RFX would be a perfect fit to create this sister site. We built on the existing design to maintain a familiar look and feel. Users who may have found out about the Foundation through the Cemetery website will feel right at home navigating their site as well. At the top is a photo slider showcasing some of the dramatic improvements they have already made, and each page offers quick links to Tours, Donations, and Support.
In addition to general information, users will find a photo gallery with many photos, as well as available tour dates and times. The Foundation was very pleased with our work, and we are proud to continue our support of this local treasure!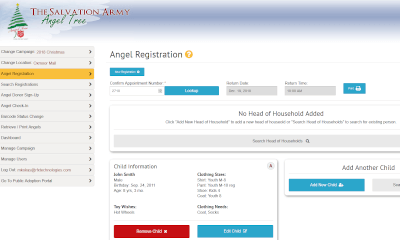 Salvation Army Angel Tree

Salvation Army Angel Tree
The Salvation Army Louisville is a non-profit organization. Their Angel Tree program is dedicated to providing gifts around the holiday season for less fortunate children in the metro Louisville area. The organization helps put smiles on over 10,000 kids' faces every year by providing toys, clothing, and shoes. This program is very rewarding not only to those being served, but also to the generous donors who adopt angels to ensure they have a great Christmas.
What was Salvation Army Angel Tree looking to accomplish?
Salvation Army initially approached RFX in 2013, looking to improve their yearly process for the Angel Tree Louisville program. Their program had been using paper for everything – from initial child registration, to people signing up for angels, the gifts donated, and even the tracking of gifts as they were brought back for distribution. Everything for their process was done manually, and was very time consuming. With the number of angels being placed for adoption growing annually, the challenges of their manual processes were increasing as well.
what was rfx's solution?
RFX Technologies went above and beyond the initial request for the Salvation Army! With two years of improvements now in the books, we have developed a fully custom web application that streamlines the Salvation Army process and helps more children be registered in less time than ever before. RFX developed an online web portal that allows volunteers for the Angel Tree program to register families, and their children, and automatically place them into a database with their age, clothing and shoe sizes, and gift wishes and needs identified. From there, the Salvation Army Angel Tree software application is able to track who has been signed up, where each angel has been placed for adoption, and who the donor is who has made the adoption. When donors return their gifts, they are then logged as received, and tracked as they are returned to the Salvation Army for distribution.
In addition to all of the back end management that RFX was able to provide, we created a front end web portal that allows donors to search for an angel they wish to adopt by an array of areas (e.g. age, sex, etc.) and adopt them via a web interface. This integrates perfectly with the database and saves hundreds of hours of work for volunteers. Improvements are being made every year and RFX is extremely proud to be a part of this program's growth.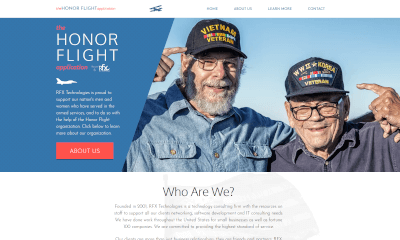 Honor Apps Website

Honor Apps
The Honor Apps Website is a showcase of the Honor Apps Application developed by RFX Technologies. It helps Honor Flight hubs across the country—including Honor Flight Bluegrass right here in Kentucky—maximize the efficiency and reach of their volunteers. This allows them to better accomplish their goal of flying as many veterans as they can out to Washington DC to see the monuments that were built to honor them.
What was Honor Apps looking to accomplish?
RFX needed a way to show the benefits of the Honor Apps Application to hundreds of hubs across the nation. We wanted to not only show what the application can do, but also explain how it can help an individual hub and walk through the levels of security that are built-in to our websites and applications. The goal was to develop an informative site that would highlight the main benefits of the Honor Apps Application and allow hubs to contact us for answers to questions or talk about integrating the Application with the processes of their volunteers.
what was rfx's solution?
RFX developed a clean, sleek, and mobile-friendly website to teach hubs more about the application and how it can help them honor more veterans with less effort. It beautifully highlights the features of the Honor Apps Application through pictures and videos and helps people learn about our background with Honor Flight. The contact form we created makes it easy for people to get in touch with us and notifies us via email every time a submission is made. We continue to add more info and videos to showcase the great accomplishments of the Honor Flight organization and publish enhancements and details from the application.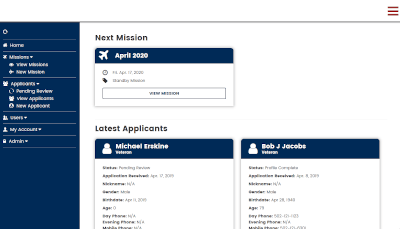 Honor Apps Application

The Honor Apps Application
The Honor Apps Application is a custom developed software program created to help Honor Flight hubs manage their veteran, guardian, and volunteer application process so that they can maximize their reach and honor as many veterans as possible with a trip to Washington, DC to visit the memorials created in their honor.
What was Honor Flight looking to accomplish?
Honor Flight needed a way to minimize the use of paper applications, and spreadsheets, and to electronically enter, track, and assign applicants to mission trips, and buses, along with an assigned guardian, in an online, secure database. They also wanted to reduce the number of volunteer hours needed to organize mission trips so those volunteers could focus on raising the funds necessary to make the flights happen and recruiting veterans to support.
what was rfx's solution?
In 2015, RFX began work with Honor Flight - Bluegrass Chapter in Louisville, Kentucky to design and build a software program that would save them hundreds of hours planning, and organizing their three annual mission flights. This application can help any hub create, plan, and organize a successful mission trip, as well as track the veterans, guardians, and volunteers who are being supported by their hub. It is cloud based, allowing multiple users to access the system, and enter, track, and assign applicants to missions, flights, and buses for their trips. Applicants can now also enter their data through a hub's website, reducing the need to mail in paper applications. The system will also allow veterans and their assigned guardian to be paired in the system, and to be tracked real-time in their assignment process by hub staff and volunteers.
Use of this program has allowed hubs to reduce their volunteer hours organizing mission trips by as much as 50%. As of the Fall of 2019, the Honor Apps program has helped 138 different hub staff members/ volunteers organize and track almost 24,000 applicant records in order to plan and successfully complete 50 missions taking 4,878 Veterans, Guardians, Medics, and Volunteers to Washington, DC to be honored at their memorials!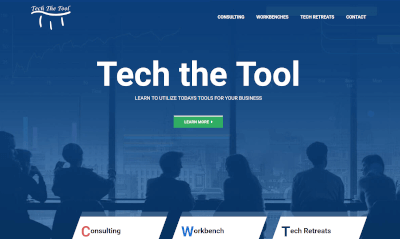 Tech The Tool

Tech The Tool
Tech The Tool can help your business through a range of ways. They provide personalized consulting for both executive owners and IT directors. They also hold educational roundtable style events that we call workbenches and weekend retreats that work to educate on a wide variety of current tech trends. Their primary goal is to provide personalized guidance that will help your business grow.
What was Tech The Tool looking to accomplish?
Tech The Tool needed a place to show off their services as well as a quick and easy way for potential clients to learn what they do, see testimonials from satisfied clients, and contact them. They also needed a place where people could keep track of upcoming workbenches and register to attend them.
what was rfx's solution?
RFX built a modern and responsive website with areas showcasing all the services that Tech The Tool provides. The site is easy to navigate and helps visitors quickly and easily find the information that is most relevant to them based on their work role. Information about past and upcoming workbenches is readily accessible via sleek tiles which exhibit the key details in an aesthetically pleasing way and entice website visitors to click and learn more. RFX also set up a registration form on each workbench so that Tech The Tool receives an email containing the guest's registration information automatically.